Title:
Crash Into You (Pushing the Limits #3)
Author:
Katie McGarry
Rating:
4 out of 5 stars
Shelves:
Young Adult, Contemporary, Romance
Recommended for Fans Of:
Jennifer L. Armentrout, Colleen Hoover
*Book #1 of #MarchMadnessReads*
Goodreads
Synopsis from Goodreads: From acclaimed author Katie McGarry comes an explosive new tale of a good girl with a reckless streak, a street-smart guy with nothing to lose, and a romance forged in the fast lane
The girl with straight As, designer clothes and the perfect life-that's who people expect Rachel Young to be. So the private-school junior keeps secrets from her wealthy parents and overbearing brothers...and she's just added two more to the list. One involves racing strangers down dark country roads in her Mustang GT. The other? Seventeen-year-old Isaiah Walker-a guy she has no business even talking to. But when the foster kid with the tattoos and intense gray eyes comes to her rescue, she can't get him out of her mind.
Isaiah has secrets, too. About where he lives, and how he really feels about Rachel. The last thing he needs is to get tangled up with a rich girl who wants to slum it on the south side for kicks-no matter how angelic she might look.
But when their shared love of street racing puts both their lives in jeopardy, they have six weeks to come up with a way out. Six weeks to discover just how far they'll go to save each other.
Review: Another amazing story from Katie McGarry! While I have a few bones to pick with Crash Into You, it was a great continuation to a red-hot series.
Characters:
One word: ISAIAH.
I really fell for Isaiah in Dare You To, when his heart was broken and he was still a minor character in Beth's life. I've secretly been hoping that Beth and Isaiah would end up together, but come on. That was just never meant to be. In Crash Into You, we learn more about Isaiah's childhood, as we dive deeper into his very complicated life. Isaiah is one of the most swoon-inducing guys in YA romance, especially in Crash Into You. I think everyone will fall for this tough guy with a rough exterior but a heart of gold. The way he treated Rachel is the way every girl wants to be treated, and how every guy should aspire to be. I gave Isaiah a lot of respect. He has a really tough life and yet he is brave and tough, while caring for those he loves the most. On the other hand, Rachel was a bit of a disappointment for me. While I did like her innocence and purity, I felt like she was a bit dramatic at times. And yes, Rachel did also have a tough life at home. However, there are many more people with harsher lives, people who don't have the luxury of money. Katie McGarry was very kind to give Rachel slightly better circumstances. However, I think everyone should consider that there are teenagers who go through much more than Rachel ever could in her circumstances. The fact that she could even manage to sneak out to see Isaiah was a blessing in itself, and one she took for granted.
Storyline/Plot: This was a hellavu story. In my opinion, it was a bit more dramatic than the previous two books in this series, and it worked out well. Rachel and Isaiah did have a dramatic relationship, especially since the two were like night and day. At times, I just could not put this book down! It was addicting and fast-paced. Katie pulled out twists and turns like she was actually drag racing! (haha bookish humor) What I really loved was that there were no plot holes. Not just for Crash Into You, but also for Pushing the Limits and Dare You To. Each book that Katie writes will thrill and entertain you completely.
Writing: No one does intoxicating teenage romance like Katie McGarry! Seriously addicting stuff, guys. If you've read Pushing the Limits or Dare You To, then you'll know that the writing is almost flawless. Katie brings a new voice to each character, making them dynamic and memorable. Sometimes characters in books will blend together for me, either due to lack of voice and originality, or just plain old bad writing. In Katie's books, Isaiah and Rachel felt so alive. When you start to get all the feeeeels, you know that the author did some wonderful writing.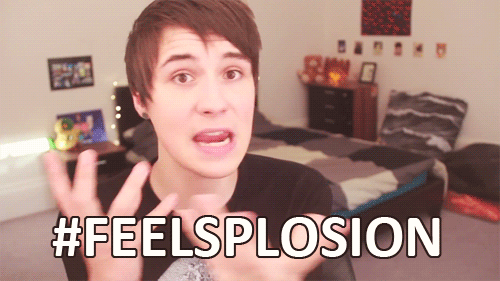 Conclusion:
This book definitely ROCKED! If you haven't read this series yet, I encourage you to start! Also, I'll be posting a
Crash Into You
playlist very soon, as part of my March Madness Read-A-Thon, so look out for that! :)