Author: Jessica Martinez
Rating: 4.5 out of 5 stars
Shelves: Young Adult, Contemporary, Realistic Fiction
Recommended for Fans Of:
Publication Date: October 15th, 2013
Source: ARCycling Program for review
Format: Physical ARC
Synopsis:
There are so many different definitions of love. For Mo and Annie, their love is a bond stronger than even a brother and sister can hold. So when Mo is forced to move back to his homeland of Jordan, Annie rushes to keep Mo in the United States the only way she can; by marrying him. It seems like the perfect plan and it seems like nothing will separate the two best friends, until one day, Annie does the unexpected. She falls in love. But not with her husband, Mo. Now the couple must try to convince everyone and deceive the authorities before they are separated forever.
Review: A huge thank you to The ARCycling Program for providing me with this ARC copy for review!
I was a little skeptical with this book at first. I usually don't read "unusual" contemporary novels, where the storyline is not flat-out love, but I decided to take a chance with The Vow, and I am so glad I did.
Storyline/Plot
This storyline broke my heart. It was everything they couldn't say, everything they couldn't do, all wrapped up into one book. It was definitely a realistic concept written very well, and told with true emotion and charm. This was me after reading: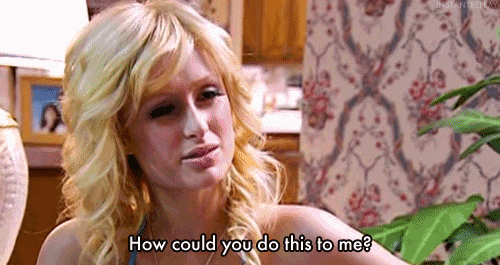 THE EMOTIONS. *flails*
Characters: The characters were really interesting! Each one was kind of peculiar in their own way, and they came together to form something so real and tangible. Both Annie and Mo were flawed, and their flaws came together to form a wonderfully raw story.
Writing: The Vow was such a roller coaster ride of emotions. I started off the book with a set mindframe, convinced I was not going to change my opinion, but Jessica Martinez wove a story where I came out and was like, "what is going on? How am I okay with changing my mind?" The writing, in general, was fabulous, and I had no problem connecting with the characters. The emotions Jessica made me feel as I read deeper and deeper into Annie and Mo's story was a problem for the "use in case of feels" tissues used, but I LOVED EVERY MINUTE OF IT.
Romance: I really can't say too much about the romance aspect of this book without giving too much away! I didn't know what to expect, but I really loved the path the romance in this book ended up taking. It seems only fitting, and you'll just have to read it for yourself to find out;)
Conclusion: I suggest you have these while reading this book:
Because you'll need them. Jessica Martinez writes a raw and emotional new novel that will leave you stunned and wanting more. Guaranteed.