Welcome to Day 12 of New Year, New Books! Today I'm featuring a super fab author with a book release date that is just too far away.
1) Amy Zhang
-author of Falling Into Place (September 9th, 2014)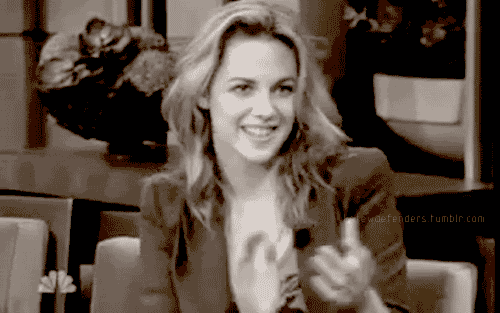 Is this Kristen Stewart? The world may never know.
Although very little is known to the general public about Amy's upcoming book, the prose sounds GORGEOUS. Aghck I need this book.
Title:
Falling Into Place
Author:
Amy Zhang
Shelves:
Young Adult, Contemporary
Publication Date:
September 9th, 2014
Publisher:
Greenwillow Books
Goodreads
|
Amazon
Summary from Goodreads:
About a teen girl who attempts suicide, told from the perspective of her neglected childhood imaginary friend. The book is scheduled for fall 2014
1. I wrote an entire novel in my bathtub. I realized, one summer, that I write best in places that are quiet, dark, and completely without distraction, and turns out, the bathtub was perfect. Not too comfortable, but whatever.
I know the musical version of Les Miserables by heart. Also, almost every Disney song.
When I was younger, I used to sleep with my favorite books under my pillow. Ever try sleeping with Harry Potter under your head? Yeah, I think we're the most dedicated fandom.

English is my second language. When I was in preschool and still learning to speak it, I would make up words and randomly drop them in conversation. I remember getting super confused when other people didn't understand me.

I am fully capable of eating an entire pie in one sitting.

The first book that ever made me cry was Charlotte's Web.
I wrote my book, Falling into Place, during National Novel Writing Month last year, except I fell behind schedule and ended up having to write 15K in the last two days.
I have a serious problem when it comes to marathoning TV shows. I watched the first three seasons of Downton Abbey in a weekend. I watched Game of Thrones in five days. I started Once Upon A Time about a week ago, and I'm almost done (SEND HELP).
If I could marry any fictional character, I'd screw monogamy and go for Brigan (Fire, Kristin Cashore), Akiva (Daughter of Smoke and Bone, Laini Taylor), Sydney Carton (A Tale of Two Cities, Charles Dickens), Captain Hook from Once Upon A Time, and Tony Stark.

I paper-mached my desk with old book pages, and I whenever I come across a good quote, I write it on my desk.

I keep a decorative dagger behind my bed. I got it at a garage sale. It makes me feel kind of badass, but let's be honest—I'm going to stab my eye out one of these days.

A security dog at the World Trade Center Memorial licked my contracts. That's right. My book is dog drool approved.

I'm currently in the early stages of building a pair of wings out of dictionary pages.

And my darkest secret: I hate popcorn. Hate it. I await your pitchfork-wielding mobs, Internet.
***GIVEAWAY***
We all know that 2014 is going to be full of AMAZING debut authors. So Amy is giving away a pre-order of any 2014 debut, WINNER'S CHOICE!
1) OPEN TO U.S RESIDENTS ONLY
2) Don't cheat with your entries, I always check.
3) The winner will have 48 hours to respond to my email, otherwise, I will be forced to pick a new winner.
4) The prize will be sent out at the author's discretion.
5) Take the time to read this post with Amy. Authors are crazy busy and deserve as much love as you can give them.
6) GOOD LUCK!
a Rafflecopter giveaway
***Grand Prize Giveaway***
2 Surprise 2014 ARCs + swag
Yep, these will be from my own shelf. Yep, this giveaway is open INTERNATIONALLY. Yep, it is a surprise and I am not telling you what the ARCs will be but here's an idea of what MIGHT be in it:
Any of these books are fair game! But in the end, the winner will only get 2. And I promise that the surprise ARCs will be good:)
Here are the rules of entry:
1) OPEN INTERNATIONALLY
2) The winner has 48 hours to respond to my email. If not, I will have to pick a new winner.
3) The prize will be sent out at my discretion, so I might take me a little longer than a week to get it to you.
4) In order to earn the maximum amount of entries, you can comment on EVERY SINGLE DAY of New Year, New Books!
5) GOOD LUCK!
a Rafflecopter giveaway