Welcome to Day 7, part 1 of New Year, New Books! Today I've got Brandy Colbert with her upcoming release, Pointe, which is sure to stun the world with its
originality
and raw heartache.
1) Brandy Colbert
-author of Pointe (April 10th, 2014)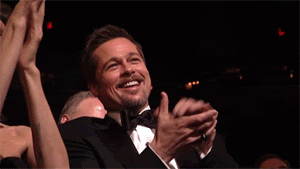 Fun fact: I did not actually search "Brad Pitt gifs" online, it just came up. Okay.
Anyways, Pointe is one of those books that everyone is going to read in 2014. I'm personally not a fan of "tough and emotional issues" in books, but I will DEFINITELY be reading Pointe. Most likely everyone will be.
Title:
Pointe
Author:
Brandy Colbert
Shelves:
Young Adult, Contemporary, Realistic Fiction
Publication Date:
April 10th, 2014
Publisher:
Penguin Teen
Goodreads
|
Amazon
|
B&N
Summary from Goodreads:
She's eating again, dating guys who are almost appropriate, and well on her way to becoming an elite ballet dancer. But when her oldest friend, Donovan, returns home after spending four long years with his kidnapper, Theo starts reliving memories about his abduction—and his abductor.
Donovan isn't talking about what happened, and even though Theo knows she didn't do anything wrong, telling the truth would put everything she's been living for at risk. But keeping quiet might be worse.
Top 10 TBR with Brandy Colbert
This is not news to anyone who knows me, but I am constantly complaining about how behind I am on my TBR list, whether in theory or the physical piles of unread books that are taking over my house. Considering I purchased six books on the first day of the new year, that list isn't going down any time soon. But I'm slowly making my way through, and here are the top 10 I'm most looking forward to picking up in the early part of 2014 (even if they were, ahem, published prior to 2014):
OCD Love Story by Corey Ann Haydu
When I Was the Greatest by Jason Reynolds
The Wig in the Window by Kristen Kittscher
No One Else Can Have You by Kathleen Hale
Dr. Bird's Advice for Sad Poets by Evan Roskos
Far From You by Tess Sharpe
Uses for Boys by Erica Lorraine Scheidt
When Audrey Met Alice by Rebecca Behrens
Bonus? I've had the pleasure of reading two 2014 books that everyone should have on their list. They're both beautifully written with complex and unique plotting. I read them months ago, and they've stayed with me since then:
Complicit by Stephanie Kuehn
Life By Committee by Corey Ann Haydu
Happy 2014, and thanks so much for having me, Jayne!
****GRAND PRIZE GIVEAWAY***
In addition to the individual giveaways each author is hosting, I am also going to have a grand prize giveaway that will run for the entire month. This is because some authors cannot contribute a giveaway, so I figured I'd give something of mine as well.
Grand Prize Giveaway:
2 Surprise 2014 ARCs + swag
Yep, these will be from my own shelf. Yep, this giveaway is open INTERNATIONALLY. Yep, it is a surprise and I am not telling you what the ARCs will be but here's an idea of what MIGHT be in it:
Any of these books are fair game! But in the end, the winner will only get 2. And I promise that the surprise ARCs will be good:)
Here are the rules of entry:
1) OPEN INTERNATIONALLY
2) The winner has 48 hours to respond to my email. If not, I will have to pick a new winner.
3) The prize will be sent out at my discretion, so I might take me a little longer than a week to get it to you.
4) In order to earn the maximum amount of entries, you can comment on EVERY SINGLE DAY of New Year, New Books!
5) GOOD LUCK!
a Rafflecopter giveaway