Welcome to Day 30 of New Year, New Books! Today I'm featuring...
Maria E. Andreu
-author of The Secret Side of Empty (March 11th, 2014)
Title:
The Secret Side of Empty
Author:
Maria E. Andreu
Shelves:
Young Adult, Contemporary
Publication Date:
March 11th, 2014
Publisher:
Running Press Kids
Goodreads
|
Amazon
|
Summary from Goodreads:
As a straight-A student with a budding romance and loyal best friend, M.T.'s life seems as apple-pie American as her blondish hair and pale skin. But M.T. hides two facts to the contrary: her full name of Monserrat Thalia and her status as an undocumented immigrant.
But it's harder to hide now that M.T.'s a senior. Her school's National Honor Society wants her to plan their trip abroad, her best friend won't stop bugging her to get her driver's license, and all everyone talks about is where they want to go to college. M.T. is pretty sure she can't go to college, and with high school ending and her family life unraveling, she's staring down a future that just seems empty. In the end, M.T. will need to trust herself and others to stake a claim in the life that she wants.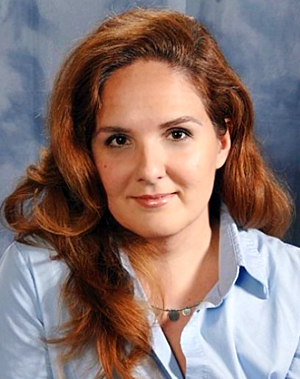 Meet Miss Maria!
Maria's website|Goodreads author page
Author Maria E. Andreu draws from her personal experience as a (formerly) undocumented immigrant to explore an issue that affects over one million children in the U.S. But while the subject matter is timely, it is M.T.'s sharp, darkly funny voice and longing for a future that makes this story universally poignant.
Maria E. Andreu is the author of The Secret Side of Empty, a young adult novel due out Spring, 2014 (Running Press). It is the story of M.T., a regular American high school senior who is just like everybody else with one important exception: she is undocumented. She was brought over as a baby and her parents overstayed their visitors' visa. Now, with graduation looming, and no social security number for a college education, a job, a driver's license and everything else her friends are planning on, she's got to make some tough choices that will impact the lives of everyone she loves.
***GIVEAWAY***
Maria has provided me with THREE LOVELY ARCS OF The Secret Side of Empty to give away!!
If you want one, I suggest you enter to win! ;)
1) US ONLY
2) No cheating with the entries, I always check!
3) The ARCs will be sent out at the MY discretion.
4) Take the time to learn about Maria, not just enter the giveaway. All the authors featured in New Year, New Books are crazy busy, and deserve as much love and attention as any giveaway you enter.
a Rafflecopter giveaway
***Grand Prize Giveaway***
2 Surprise 2014 ARCs + swag
Yep, these will be from my own shelf. Yep, this giveaway is open INTERNATIONALLY. Yep, it is a surprise and I am not telling you what the ARCs will be but here's an idea of what MIGHT be in it:
Any of these books are fair game! But in the end, the winner will only get 2. And I promise that the surprise ARCs will be good:)
Here are the rules of entry:
1) OPEN INTERNATIONALLY
2) The winner has 48 hours to respond to my email. If not, I will have to pick a new winner.
3) The prize will be sent out at my discretion, so I might take me a little longer than a week to get it to you.
4) In order to earn the maximum amount of entries, you can comment on EVERY SINGLE DAY of New Year, New Books!
5) GOOD LUCK!
a Rafflecopter giveaway