Day 3: The Worlds We Make
Welcome to Day 3 of New Year, New Books! I'm featuring one of my ALL TIME FAVORITE science fiction/dystopian books: The Fallen World Trilogy. I devoured the first two in two days, staying up overnight and surreptitiously reading during class because they are SO GOOD. However, Hyperion has a rule that the last book in a series must not be published in ARC form (which made me cry, I kid you not.) You can definitely count on me to be buying all three books once The Worlds We Make hits shelves.
Megan Crewe
-author of the Fallen World Trilogy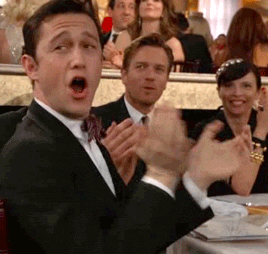 I'm sorry, I put this gif here for my own enjoyment.
So anyways, Megan Crewe is here on my blog today, talking about her AMAZING YA dystopian trilogy, Fallen World. She's giving us 10 random facts, and it's really awesome to get a peek into the mind of the brilliant Megan Crewe. Take a look at conclusion to the Fallen World trilogy:
Title:
The Worlds We Make (Fallen World #3)
Author: Megan Crewe
Shelves: Young Adult, Science Fiction, Romance
Publication Date: February 11, 2014
Publisher: Disney Hyperion
Summary from Goodreads: The virus has taken away Kaelyn's friends, her family, her home.

And now a deadly enemy threatens to take the one hope she has left:
THE CURE.
When Kaelyn and her friends reached Toronto with a vaccine for the virus that has ravaged the population, they thought their journey was over. But now they're being tracked by the Wardens, a band of survivors as lethal as the virus who are intent on stealing the vaccine no matter what the cost.
Forced onto the road again, Kaelyn and her companions discover the Centers for Disease Control in Atlanta is their best hope for finding scientists who can reproduce the vaccine. But with the virus already spreading among them, the Wardens hot on their trail, and hundreds of miles to cross, Kaelyn finds herself compromising her morals to keep her group alive. Her conscience seems a small price to pay if protects them and their precious cargo. Unless even that is not enough...
In the final installment in Megan Crewe's captivating the Fallen World trilogy, Kaelyn is on the run from her biggest adversaries yet. While she continues to face horrific loss, her resolve is still strong. But to survive this shattered world, will she have to sacrifice all that's left of the girl she was?
Watch the book trailer for Book 1: The Way We Fall
10 Random Facts about the Fallen World Trilogy
1. For the first year when I was brainstorming, researching, and outlining the idea, I didn't have a title, so all my notes and files for the story were simply labeled "plague book".
2. When I was imagining the first book, I saw it taking place in a large city like the one I live in (Toronto). But I also wanted to trap the characters in their location with a quarantine, and that would be pretty much impossible in a city. It was only when I started considering what sorts of settings did lend themselves to complete isolation that I got the idea to start the trilogy on an island.
3. The island where Kaelyn lives and where the entire first book takes place is fictional, because it seemed cruel to me to inflict a deadly virus on an actual community, and also that allowed me more flexibility in laying out my island and town. But as some readers gleaned, the island is intended to be off the coast of Nova Scotia, and is most similar to Cape Sable Island (although Cape Sable Island has a few scattered villages as opposed to one condensed town, and is close enough to the mainland to have a bridge allowing access). I visited Cape Sable Island on vacation in Nova Scotia to get a stronger feel of the setting.
4. The setting--in Canada--has also caused a little confusion around the holidays. Readers outside Canada may not have realized that our Thanksgiving happens on the second Monday in October, rather than at the end of November as it does in the US. So if you wondered why Kaelyn's family was celebrating apparently several weeks early, now you know. :)
5. Another possibility I considered when developing the story was that the virus might be a manmade super virus that has escaped a lab. I decided to instead go with a natural virus for a couple reasons. One, I feel the whole "manmade virus escapes the lab" scenario has been done a lot in books and movies, and I didn't want to go over well covered ground. And two, during my research it amazed me how many very dangerous viruses have emerged from nature with no human assistance, sometimes only luck preventing a horrific outbreak. To me, the idea that a virus could surprise us out of nowhere, due to just the random mutations that occur in the natural world, is a lot scarier than a case of laboratory irresponsibility.
6. Of all the characters, the one I had the hardest time naming was Leo. He changed names several times before I started writing and even after I'd written the first few chapters. The name that stuck the longest before Leo was Jack, until I realized that Jack would be interpreted as a short form for a feminine name like Jaclyn. Since the only pronoun given for him for most of the book is "you", when Kaelyn addresses parts of her journal to him, it was important to me that readers could tell he was a guy from his name from the start, rather than get an incorrect image of him. And so he finally became Leo.
7. The trilogy was originally intended to be a duology. I pictured the story as having two parts, the "island book" and the "mainland book." But when I was drafting the second book, I realized to fully tell the story I wanted to, I was going to need a lot more than 300 pages. Thankfully my publisher was on board with expanding the series into a trilogy--although I still feel guilty about the cliffhanger ending that necessitated for THE LIVES WE LOST.
8. If the trilogy has a musical mascot, it would be Emily Haines. I see songs by her as being the main themes for each of the books. For THE WAY WE FALL, it's "Cloud Surf Off A Cliff."
For THE LIVES WE LOST, "Our Hell."
And for THE WORLDS WE MAKE, "Nothing and Nowhere."
9. I initially carried over the journal format from THE WAY WE FALL into THE LIVES WE LOST, as occasional entries scattered throughout the first person narration. I knew with the additional action on the mainland, it wouldn't make sense to have the entire second book in journal format, but I thought having at least a few entries would make the story feel more consistent. But both my early readers and my editor felt the entries were unnecessary and would work better as fully fleshed-out scenes, so the final book now just has the one journal entry at the beginning, in which Kaelyn explains why she's not going to be writing any longer.
10. Character deaths are always tricky. I don't want to go easy on my characters, and in this scenario, it makes sense for a lot of people, some of them very close to my main character, to die. But I sometimes change my mind about exactly who is going to be killed. There's a scene in THE WORLDS WE MAKE that I will not spoil, but I will just say that a character is shot and killed while protecting another character. In the first draft of that book, the characters' positions were reversed (the one who now is saved was the one who died to save the other). After further consideration, I decided it was too predictable the way it happened, and that it reflected the growth I thought both characters had gone through over the course of the story for it to happen the other way around. (And you will just have to read THE WORLDS WE MAKE if you want to find out who I'm talking about. ;) )
So as I mentioned before, there will be no ARCs of The Worlds We Make (booooo) but was super duper fantastic to put together a Fallen World Swag Pack! So then, this way, one lucky winner will have bookmarks to use while reading their Fallen World book *winks*
1) OPEN INTERNATIONALLY- therefore, if you are from outer space, sadly, you cannot enter.
2) No cheating with your entries, I always check
3) The winner has 48 hours to respond to my email, or else I will be forced to pick a new winner.
4) The swag pack will be sent out at the author's discretion.
5) Please actually take the time to read this post with Megan. Authors are crazy busy, and deserve as much love as you can give them.
5) GOOD LUCK!
a Rafflecopter giveaway
****GRAND PRIZE GIVEAWAY***
In addition to the individual giveaways each author is hosting, I am also going to have a grand prize giveaway that will run for the entire month. This is because some authors cannot contribute a giveaway, so I figured I'd give something of mine as well.
Grand Prize Giveaway:
2 Surprise 2014 ARCs + swag
Yep, these will be from my own shelf. Yep, this giveaway is open INTERNATIONALLY. Yep, it is a surprise and I am not telling you what the ARCs will be but here's an idea of what MIGHT be in it:
Any of these books are fair game! But in the end, the winner will only get 2. And I promise that the surprise ARCs will be good:)
Here are the rules of entry:
1) OPEN INTERNATIONALLY
2) The winner has 48 hours to respond to my email. If not, I will have to pick a new winner.
3) The prize will be sent out at my discretion, so I might take me a little longer than a week to get it to you.
4) In order to earn the maximum amount of entries, you can comment on EVERY SINGLE DAY of New Year, New Books!
5) GOOD LUCK!
a Rafflecopter giveaway