Welcome to Day 19 of New Year, New Books! Today I'm featuring...
2) Elisa Ludwig
-author of Pretty Sly (March 18th, 2014)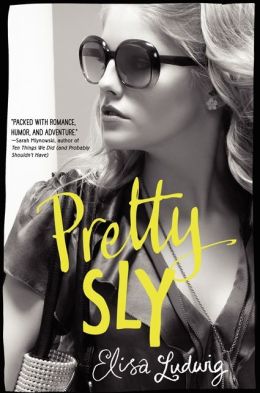 Title:
Pretty Sly (Pretty Crooked #2)
Author:
Elisa Ludwig
Shelves:
Young Adult, Contemporary, Mystery
Publication Date:
March 18th, 2014
Publisher:
Katherine Tegen Books
Goodreads
|
Amazon
|
B&N
Summary from Goodreads:
Sequel to Pretty Crooked...
Willa Fox was told to stay out of trouble. In fact, it was an order from a very serious juvenile court judge.
However, that was before Willa found her house ransacked and a mysterious email from her mother telling Willa she had to leave Paradise Valley for a while and not to come looking for her. Willa knows her mom's in danger and that no one at school will miss her after her recent sticky-fingered stunts with the Glitterati. So with the help of her pal Tre and with her degenerate crush Aidan as her wingman, Willa violates her probation and hits the California highway in search of her mom.
But when Willa and Aidan's journey turns dangerously criminal and they wind up being the focus of a national manhunt, they realize it's sometimes easier to escape the law than the truth—and that everything Willa thought she knew about her mom, and her life, was wrong.
Pretty Sly is Elisa Ludwig's fast-paced sequel to Pretty Crooked, the second book in a trilogy that's pitch-perfect for fans of Ally Carter. With a daring heroine who has one-of-a-kind spunk, a roller-coaster Bonnie and Clyde romance, a thrilling mystery, and a shocking twist ending, this book will have readers rooting for Willa as she makes the wrong choices to do the right thing. Fans will be eagerly awaiting the series conclusion.
I wish I could say I was one of those people who could listen to pop music while they write. I'm not. I'm usually thinking too loudly to hear much of anything else. Like, I might not notice the phone is ringing. However, I do love to makeplaylists for walking around my neighborhood and daydreaming about my plot and characters. Here are some of the songs that capture the spirit of my road trip mystery/caper Pretty Sly and its plucky protagonists Willa Fox and Aidan Murphy:
1) Bonnie and Clyde/ Serge Gainsbourg and Brigitte Bardot
This being a Bonnie and Clyde-esque story, I needed a good Bonnie and Clyde song. In case, like Willa, you're rough around the edges with your French, this one is a mod ode to the poem Bonnie Parker wrote before she and her partner in crime Clyde were shot on the job. The automatic rifle is a little over the top here but Willa would LOVE Bardot's chic sixties getup.
2) Fox on the Run/Sweet
This seventies glam rock jam is super fun anywhere, any time, but seriously? The foxy Fox on the Run is Willa. There are plenty of other versions of this song out there, but this is the best.
3) I Left My Wallet in El Segundo/ A Tribe Called Quest
I like to think Willa would know this track since her BFF Cherise is a Tribe fan and DJ. But even if she never heard it, a lost wallet is kind of an important plot point in Pretty Sly. Not to mention, the only thing better than a road trip is a road trip with enchiladas and fruit punch.
4) High Plains Drifter/Beastie Boys
No video here but you don't really need one to appreciate this classic Beastie Boys track about an outlaw. Willa and Aidan are not quite so badass as the dude in the song, but they definitely have their share of close scrapes. Look in my rearview mirror I seen a police car… RIP MCA
5) Bonnie and Clyde/Jay-Z and Beyonce
I can't have too many Bonnie and Clyde songs, right? The references to Sex and the City, etc. make this one a little dated but they nail the sexy lovers on the run thing. Also? Still the best Jay-Z and Beyonce collab.
6) Criminal Intent/ Robyn
This one actually came out when I was working on the novel, so I had to plant it (subtly) in the story… bonus points if you can tell me where it gets namedropped!
***GIVEAWAY***
Elisa is giving away an ARC of Pretty Sly!! Trust me when I say that YOU WANT THIS BOOK!! Enter away, people!
1) Open to anyone living in NORTH AMERICA!
2) No cheating with the entries, I always check!
3) The ARC will be sent out at the author's discretion.
4) Take the time to read this post with Elisa, not just enter the giveaway. All the authors featured in New Year, New Books are crazy busy, and deserve as much love and attention as any giveaway you enter.
5) The winner has 48 hours to respond to my email, or else I will be forced to pick a new winner.
a Rafflecopter giveaway
***Grand Prize Giveaway***
2 Surprise 2014 ARCs + swag
Yep, these will be from my own shelf. Yep, this giveaway is open INTERNATIONALLY. Yep, it is a surprise and I am not telling you what the ARCs will be but here's an idea of what MIGHT be in it:
Any of these books are fair game! But in the end, the winner will only get 2. And I promise that the surprise ARCs will be good:)
Here are the rules of entry:
1) OPEN INTERNATIONALLY
2) The winner has 48 hours to respond to my email. If not, I will have to pick a new winner.
3) The prize will be sent out at my discretion, so I might take me a little longer than a week to get it to you.
4) In order to earn the maximum amount of entries, you can comment on EVERY SINGLE DAY of New Year, New Books!
5) GOOD LUCK!
a Rafflecopter giveaway